FEATURED PROJECT
Flagstone from The Bluffton Stone Company plays a part in renovating the Cleveland Museum of Natural History.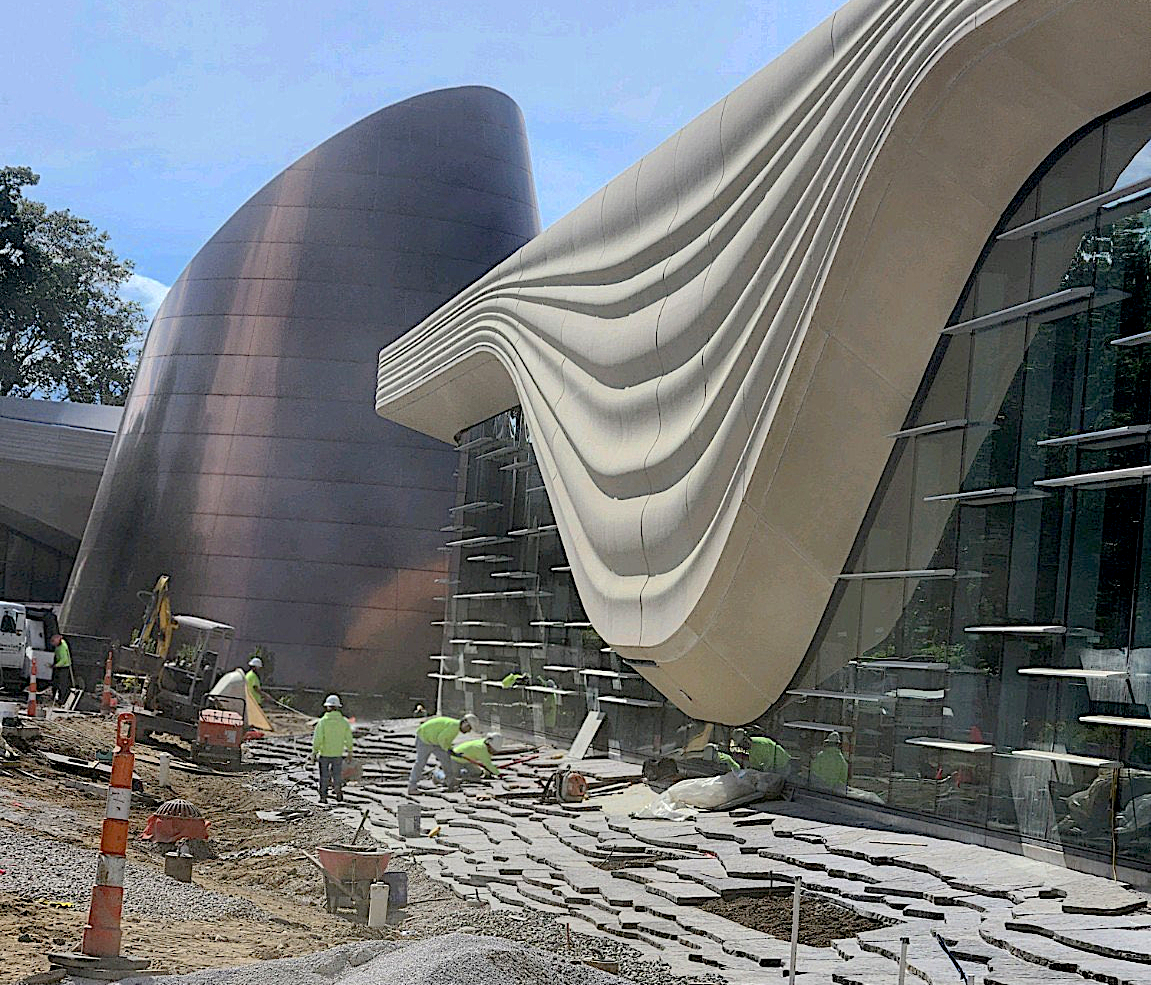 Workers install large flagstone in front of the new visitors' center at the Cleveland Museum of Natural History.
The Museum's new visitors' hall design element resembles a glacier.
Since its founding in 1920, the Cleveland Museum of Natural History has provided visitors unparalleled opportunities to encounter science. The Museum's collections, featuring more than five million artifacts and specimens, offer unique perspectives and foster lifelong learning.
The Museum is nearing the end of a 17-year, $150 million renovation, expanding its complex, flooding a once-dreary place with bright light, and connecting exhibits to the outside world.
Inspired by the institution's longstanding commitment to nature and sustainability, the exterior renovations feature water and stone elements. A new central visitors' hall features a curving, cast-concrete roof with a flowing shape resembling a glacier. Its architectural design visually references the ice masses that covered the area nearly 10,000 years ago.
Part of that detail includes large flagstones from the Bluffton Stone Company.
When the Museum's contractor invited Frank Brothers Landscape Supply to bid on supplying flagstone for part of the massive outdoor glacier effect, the Lodi, Ohio, company contacted The Bluffton Stone Company.
"Both the contractor and the Museum specified Alvar stone," says Gary Frank. "Alvar is critical to the project's ecological design."
Alvar ecosystems are flat limestone or marble rock areas with thin soil layers and sparse vegetation. Most Alvars are in North America's Great Lakes area and the Baltic region of Europe. They are vital habitats for several rare and endangered animal and plant species.
"Working with Susie Gilliland, we recommended The Bluffton Stone Company's two-inch large flagstone to the project managers," recalls Gary. "They insisted we send stone samples for testing to ensure its Alvar origin. The entire bidding process took almost three years."
To date, The Bluffton Stone Company has shipped four 24-ton loads of large flagstone to the Cleveland Museum of Natural History for the project, totaling 96 tons. Susie expects at least one additional order. She praises Andy Meyer and the team for their expertise in peeling the flagstone layer, ensuring the stones are the right color and thickness, and palleting loads to prepare them for shipping.
"It's exciting to see our products used in such a large project like this," says Susie.
The Cleveland Museum of Natural History hopes to complete the renovation project by December 2024. The central visitors' hall is due to open in October 2023.
Started in 1930, The Bluffton Stone Company produces limestone and non-limestone products and a unique color and composition flagstone for various landscaping projects.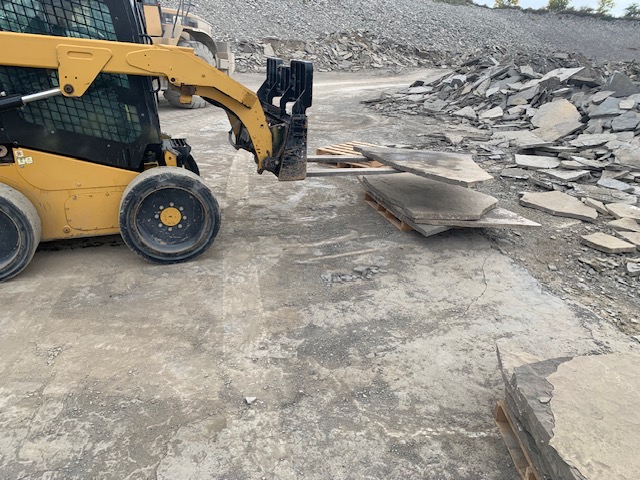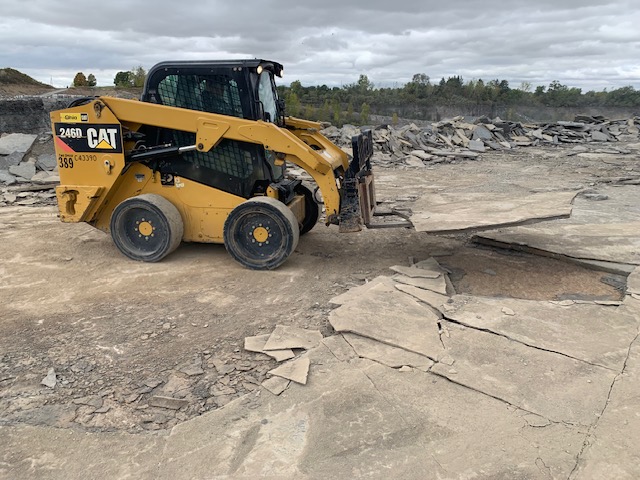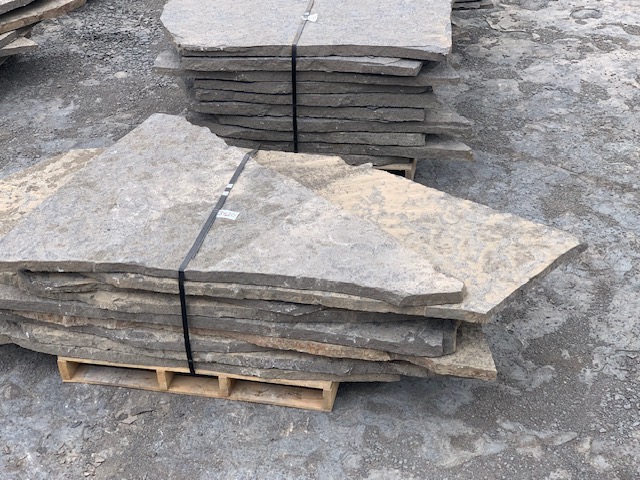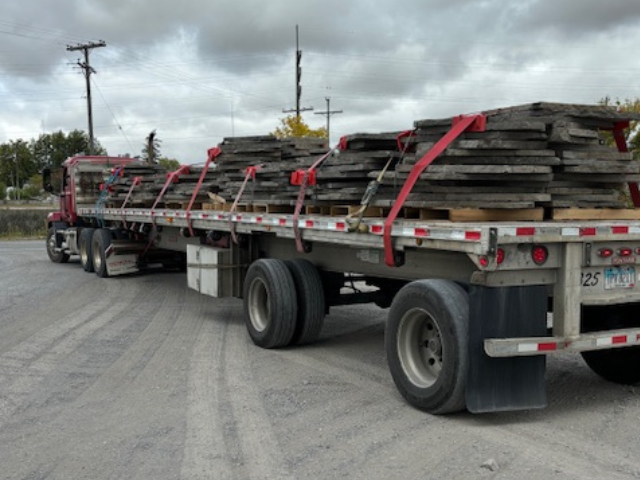 Large flagstone is peeled, palleted, and loaded for shipment.