INDUSTRY NEWS
National Work Zone Awareness & Construction Safety Week
Prioritizing the lives of our essential workers.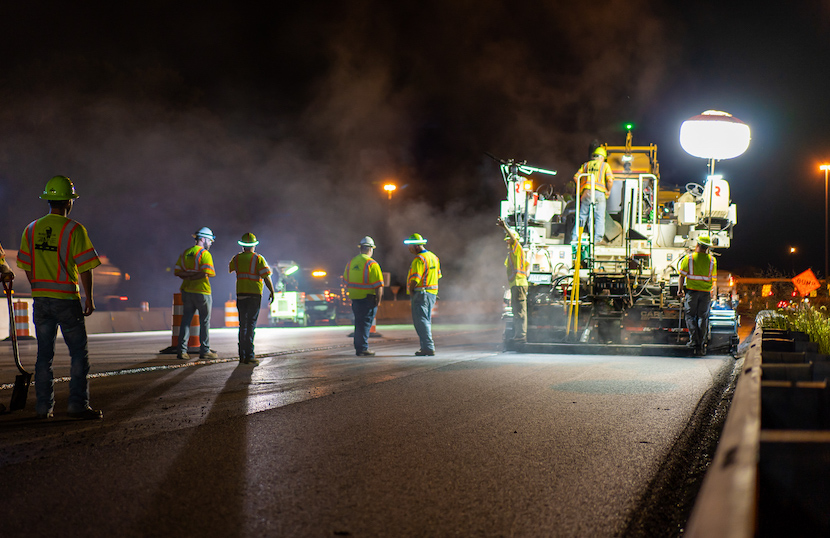 Imagine horns honking, people yelling and gesturing to you from inside their vehicles, and cars blowing past you at 55+ mph. Now multiply this by hundreds of instances over 8 to 12-hour days for an entire workweek. That is the life of a road construction worker.
The Importance of Flaggers
A flagger is a crucial position in road construction that manages and directs traffic flow at each end of a particular work zone. Flaggers coordinate with paving crews, truck drivers, and oncoming traffic simultaneously. Because they control traffic, flaggers often find themselves in the middle of a roadway. That means that a flagger is typically the one who experiences the worst of driver impatience and recklessness. It's a fact that the crew members designated for safety and traffic coordination experience the most danger in a work zone. We proudly celebrate two upcoming safety weeks to help make roadways and construction zones safer for all workers.
Safety Weeks
National Work Zone Awareness Week and Construction Safety Week are back-to-back safety-conscious weeks geared towards spotlighting the broad topic of safety in the workplace. National Work Zone Awareness Week is explicitly geared towards highway work zones and keeping the workers who develop these projects safe. It's focused on bringing awareness to the general public about the dangers of speeding and distracted driving, especially in road work zones. Construction safety week is focused more on general construction safety and covers a wide array of topics.
National Work Zone Awareness Week
"National Work Zone Awareness Week (NWZAW) is an annual spring campaign held at the start of construction season that encourages safe driving through highway work zones. The key message is for drivers to use extra caution in work zones."1
Each year, National Work Zone Awareness Week holds a theme, such as "Drive Safe. Work Safe. Save Lives." The end part of the theme is always the goal of safety, and it is indeed a team effort. It's primarily on the everyday commuter to take the time to slow down, be patient, and maintain focus when traveling through a work zone.
It can be frustrating when you are on your way to work, and traffic impedance due to road work slows you down. It is crucial to realize that this work is essential because, without maintained roads, we wouldn't be able to get there in the first place. We also need to recognize that the people putting their lives at risk working on these roadways have families to get home to, just like we do. A big part of national work zone awareness week is "go orange day." That encourages roadway safety professionals nationwide to wear orange to support work zone safety. If you or your organization would like to participate, please wear orange, take a picture, and post on social media with hashtags #NWZAW and #Orange4Safety.
"The event has become a staple of NWZAW and is a time for individuals and organizations across the country to express their support for work zone safety by wearing orange. In an effort to stop work zone crashes, this nationwide effort was first introduced by the FHWA as a new component of NWZAW in 2016."2
National work zone awareness week will always be a staple for the Gerken Companies to celebrate. For more information, visit nwzaw.org.
Construction Safety Week
Construction safety week honors all things safety in the construction world and focuses on the concept that safety is much more than PPE and following proper procedures. "We will strengthen our industry's safety culture and performance by sharing best practices, tools, and resources. We are focused on the impact our safe choices have on our team members, their families, and the communities in which we live and work. We are united in our commitment to continuously improve our safety culture and send each employee home safe every day."3
Being physically and mentally present on the job site are two overlooked and unseen factors that arguably can contribute more towards safety than having the proper equipment. "We must prioritize both physical and psychological safety, and how together, they play an important role in our relationships with our team members and with our ability to bring our safest, most productive, best selves to work every day."4
For more information, visit constructionsafetyweek.com.
Safety Conscious: A Message to the Public
In honor of these two safety-conscious weeks, we have interviewed several people on our safety and flagging staff. Our goal with these interviews was to gain some critical perspective from these employees who experience these dangers firsthand and relay their voices to the general public to bring awareness and consideration to their daily hazards. These workers are fulfilling essential jobs, and it's up to us, as the general public, to be considerate and patient when passing through their respective work zones. You can watch these interviews here.
Though these two safety events occur over two consecutive weeks, the goal is to change the mindset of people who use the roadway—indefinitely. It shouldn't take somebody getting injured in an accident or worse to leave a lasting impression in the minds of people who use our roads daily. Putting yourself in someone else's shoes isn't always easy. If we can take a moment to realize that these workers doing an incredibly essential job have families they're trying to get home to every night, maybe we can be more patient.