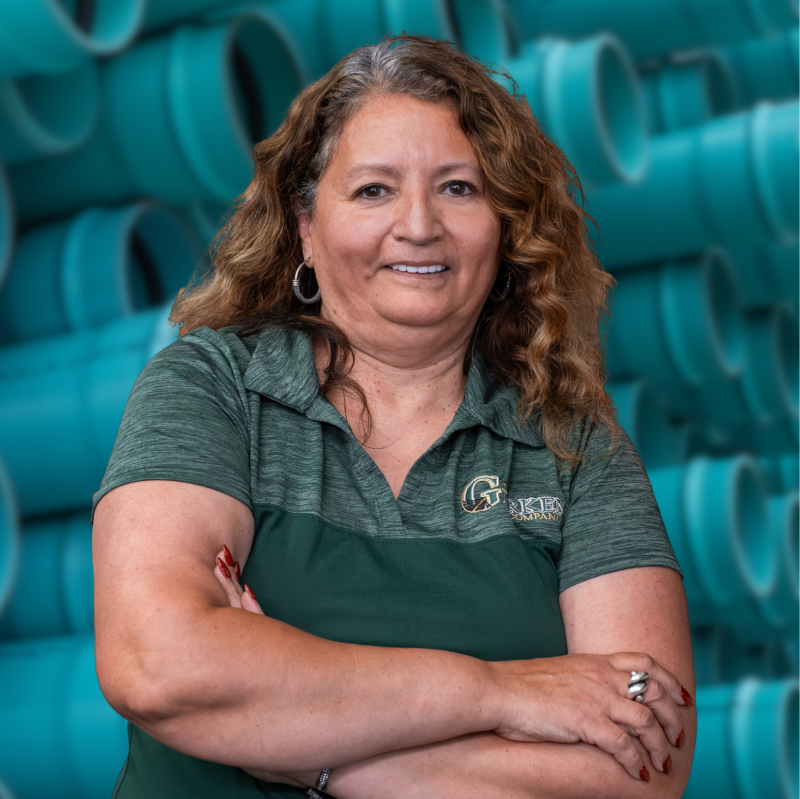 Olga Lopez finds joy in her two families—the offspring she shares with her husband and her work team at Kuhlman's Yard 4.
Olga Lopez considers herself part of two extended families. First, she and her husband, Johnny, have been together for 26 years. Their family includes three daughters, two sons, and 17 grandchildren. They also have eleven step-grandchildren and a step-great-grandson—loved ones Olga calls her "bonus" grandkids. And, yes, she knows each family member's name and birthdate.
Olga's other expansive brood consists of her coworkers at Kuhlman's Yard 4 building materials location, where she is Purchasing Inventory Manager for the Underground Division.
"The people at Yard 4 are my favorite aspect of the job," says Olga. "They are so kind. When I came to Kuhlman, I faced a very large product learning curve, and everyone—including my sales team—was extremely patient with me."
Born and raised in Toledo, Olga attended Central Catholic High School and studied at the University of Toledo. She began her business career at age 14, working at Lopez International Shipping Agency, the global shipping agency her mother started. At LISA, Olga advanced from file clerk and runner to becoming an international documentation specialist.
Over time, US embargo actions against Cuba and various other countries significantly hampered international shipping in the area, ultimately forcing Olga's mother to close her business. Olga went to work on Owens Corning's cross-border international team and later became Customer Service Manager at Clarke Power Products. She joined the Gerken family of companies in 2016.
It might surprise people to learn that Olga plans every minute of each day, leaving her with very little unscheduled time. When she's not working, Olga enjoys gardening, reading (Ohio Ghost Stories, history, and biographies), and weekends at Sunny's Campground. A devoted Ohio State football fan, she has three Shih Tzus named Buckeye, Woody, and Archie.
A self-proclaimed "foodie," Olga loves cooking for people, preparing everything from Mexican foods and soups to pastries. She takes credit for initiating the legendary Yard 4 potlucks, which have evolved into a work-family tradition.
Olga is proud of her five children: Veronica, Vanessa, Velina, Cruz, and Julio. "I really did luck out on great kids," she says.
Olga is part of a line of strong women. As a young woman, her mother labored as a migrant worker. But through persistent personal efforts, she became the first female shipping agent in the Great Lakes area, a trailblazing business owner, and a community leader. Olga's oldest daughter, Veronica, is a Gold Star Widow and mother whose husband died while serving in Balad, Iraq. Vanessa, her second-oldest daughter, has bravely battled cancer for eight years (the most recent four years in Stage 4). For her part, Olga succeeded in tackling and mastering multiple professions in male-dominated fields.
"I get extremely motivated to accomplish something when people warn me that no woman has ever done it before," says Olga. "I credit my mom—whose name was also Olga—for passing her ambitiousness on to my daughters and me."
Olga also finds inspiration in her work family, with whom she feels a special bond. She thanks Tim Wegner, who had Olga's position before her, contributed to her success, and continues to guide her almost daily.
"This is a great company with many opportunities for anyone willing to work hard and take advantage of them," she says. "We have fun while getting a lot of work done."
"The people at Yard 4 are my favorite aspect of the job."
—Olga Lopez