EMPLOYEE SPOTLIGHT
Office Manager, The Bluffton Stone Company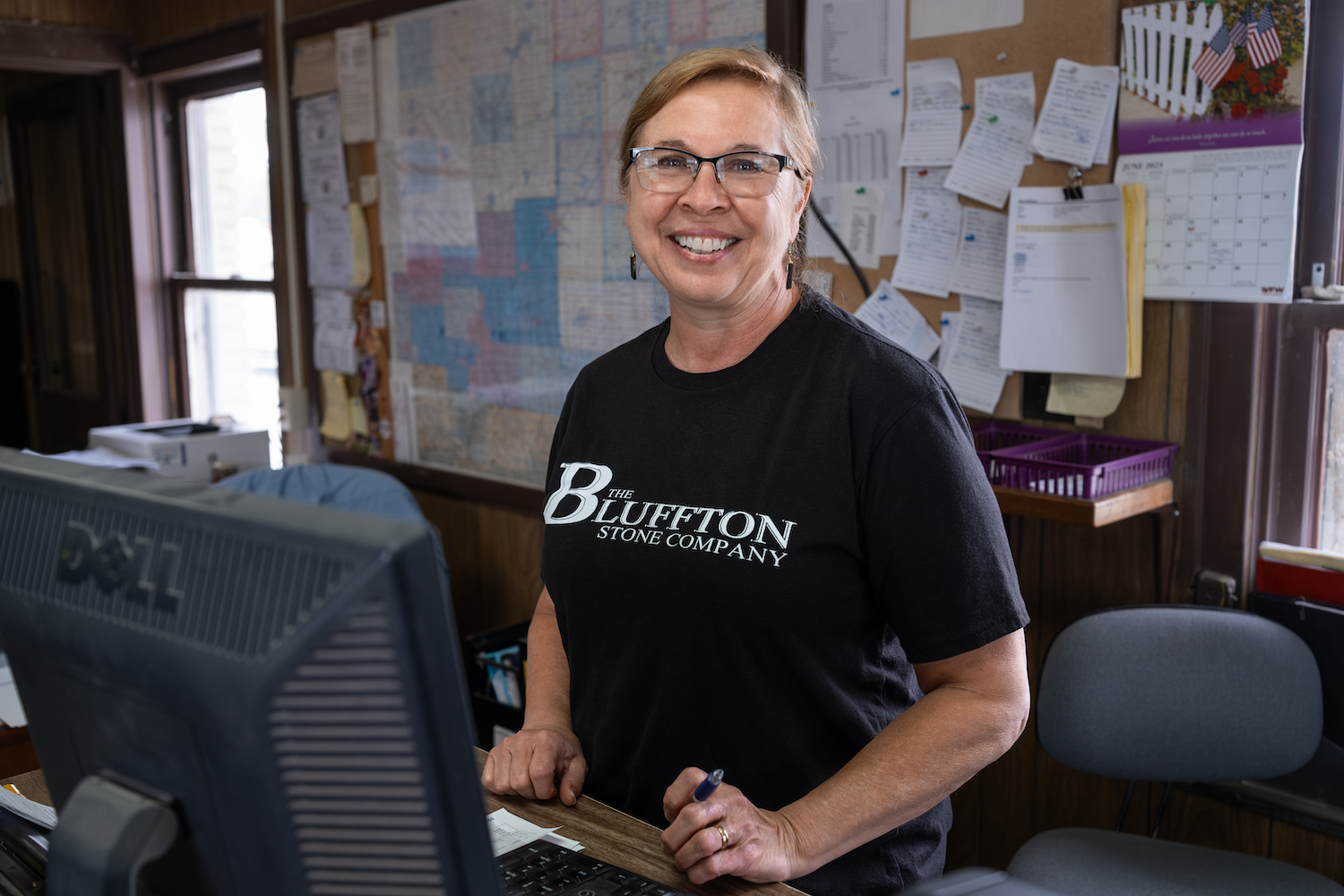 Early in her career, Susie Gilliland had to convince customers she was as knowledgeable as her male colleagues. No one doubted her for long.
When Susie Gilliland joined Bluffton Stone Company in 1990, few women worked in construction. Back then, customers coming into the office were reluctant to have Susie wait on them. After all, they thought, how could a woman know enough about their industry to assist them properly? They were happy to wait until one of the guys was available to help them.
But before long, her male coworkers had started advising customers, "You better ask Susie," and clients began insisting on working only with her. These days, most would gladly remain on hold to talk to her.
Susie's early jobs at Bluffton Stone involved working the scale, ticketing, invoicing, and processing local orders. She has been a one-person office manager for the past twenty years and enjoys handling the diverse challenges associated with her role.
"I enjoy coming to work each day," says Susie. "What I like best about my job is the people, both my coworkers and the customers. Especially our repeat customers. We all know each other well and about each others' lives."
All About Family
Born and raised in Bluffton, Ohio, Susie is her family's middle child (she has three older sisters and three younger brothers). She graduated from Bluffton High School. She loves her hometown, where everyone knows each other and seems like one big family.
Speaking of family, Susie and her husband, Jan, have been married for 28 years and have four adult children (Stephanie, Rich, Caleb, and Carrie). The couple met at work when the now-retired Jan was also a Gerken team member.
Susie enjoys treasure hunting at flea markets and likes collecting rocks and crystals. She is a big Ohio State Buckeyes fan ("Like most of my coworkers," she kids, "although a Michigan fan does occasionally slip through.").
Some might be surprised to learn that Susie is a serious coffee drinker, a trait she got from her father, Wayne. Before his passing five years ago, Wayne would come by Susie's office every afternoon at 2:00 and have coffee with her and any Bluffton Stone customers hanging around. She recalls those visits fondly as special times with her dad.
Those who know Susie best know that she wears something red every Friday to honor deployed military personnel and her son Caleb who serves in the Marines. (The "red" in R.E.D. Shirt Fridays is an acronym that stands for Remember Everyone Deployed.) She also makes it a point to shake hands with every veteran she meets and tell them all how much she appreciates their service.
"A lot of our veterans are getting older, so I think it's important we show our gratitude to them," she explains.
Important Advice
One of her first bosses at Bluffton Stone told Susie, "Treat this business as if it were your own, and you'll do well here." She took that suggestion to heart. And today, this face and voice of Bluffton Stone offers her own advice for young women and men considering careers in construction.
"Look at all aspects of the industry," she says. "Construction isn't just about running equipment."
Susie points to Bluffton Stone as an excellent example of job variety. The quarry produces multiple limestone and non-limestone products, including a unique color and composition flagstone for various landscaping projects and needs.
"It takes all kinds of jobs to get the work done," says Susie, "from office work to driving a truck and scheduling jobs to safety positions. There are so many opportunities, and all are rewarding."
"I like being part of making things happen for a job well done."
—Susie Gilliland