FEATURED PROJECT
Working at night to maintain one of Ohio's major roadways.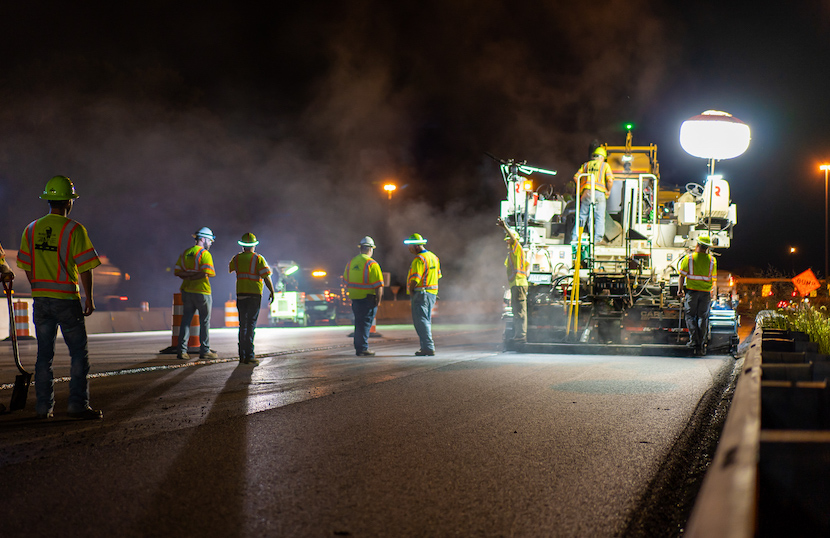 The Ohio Turnpike is a 241-mile highway that runs east and west along the state's northern corridor. Officially named James W. Shocknessy Ohio Turnpike, this highway directly links Chicago in the west and Pittsburgh in the east. Many travelers use it as the fastest and most efficient way to cross the northern part of Ohio.
One of the operational concepts of the Ohio turnpike is that it is a toll road. A toll road refers to a roadway where users pay an allotted amount for how many miles they drive. These funds contribute to maintaining the excellent condition of the highway. The road that the Ohio turnpike replaced underwent initial development roughly 200 years ago, and the concept and use of a toll road have existed for thousands of years. You can learn more about its history here.
Despite the ample amount of motor vehicles that use the turnpike, the highway continues to be traffic jam-free almost indefinitely. One reason is the consistent maintenance and repair of the roadway. Roadway quality affects many things, such as vehicle wear and tear, safety and accident potential, and speed limit. For this reason, the often overlooked and undervalued road construction industry is vital in keeping our roads safe and efficient.
Working on The Turnpike
The Gerken Companies are honored to fulfill the necessary task of maintenance and upkeep of The Ohio Turnpike. We have several current projects spanning several portions of the turnpike, including one between SR 4 and US 250, covering a total of 6.5 miles. Another work area starts at the Ohio-Indiana state line and runs to mile marker 8.2. This western portion of our work will run for three years, cover lanes in east and westbound directions, and includes approximately 435,000 tons of asphalt mix, which Gerken Materials will produce at our Pioneer asphalt plant. That is not only the largest subcontract that the Gerken Companies have performed but will be our biggest project to date.
The turnpike is always open with consistent traffic, so maintaining a safe work environment is paramount. Because the freeway is relatively large in scope and keeps a very high-quality driving surface, the speed limit is 70 miles per hour. We strive to keep our workers safer to offset the increased risk of higher driving speeds.
Safety: One of Many Benefits of Night Work
Working at night comes with many advantages. First, that's when traffic is lightest, which inherently increases safety for all our project employees. Safety is always our priority, especially in the world of road construction. It's easy to see the risks of working in areas with fast-moving vehicles passing you consistently. The concept is relatively simple: fewer cars passing our workers during their shifts equates to fewer opportunities for interference and potential accidents.
One inherent risk of working at night is decreased visibility due to darkness. There are various types of technology that we utilize to overcome that challenge. We position inflatable light balloons on the back of the paver, illuminating a large portion of the moving work zone. There are also large stand lights pulled by trucks to light the ends of the work zones and the trucks coming in. But what about individual workers who move from different zones of the project? Employees in the work zone wear unique lights on their hard hats called halos. Halos are a portable way to keep our employees visible to oncoming traffic, no matter where they go. Working at night is just one method to secure our employees' safety.
Staying Efficient in the Heat of Summer
Another simple benefit to working at night is cooler temperatures. That may seem simple, but it is extremely valuable when considering the heat of a summer day in Ohio. Hot asphalt delivered to a job site at approximately 300° can further compound the heat. Working with high-temperature material on a hot summer's day can undoubtedly add to the difficulty of a day's work. Temperature is also important because many of our flaggers have to wear full-body high-visibility safety attire. Even vented, these "high-vis" suits are hot, so working in cooler temperatures is still a welcomed benefit of night work.
Efficiency is important in any industry, and road construction is no different. With the decreased traffic at night, the paving crew's mobility is freed up a bit and adds to productivity. Our truck drivers who deliver the hot asphalt mix also benefit from working at night because they can more easily maneuver themselves to coordinate with the paver. It's important to note that the work zone is always moving while paving long stretches of highway without stopping. This process includes a truck that positions the caution cones that buffer either side of the work zone. These "cone-zones" serve various purposes, such as alerting traffic to upcoming roadwork, creating an area of space between traffic and workers, and adding lanes of maneuverability for trucks that are bringing asphalt into the work zone. A decrease in traffic helps with efficiency for the zone movers and makes the process smoother and safer.
The Ohio Turnpike will remain the go-to route for travelers passing through our state's northern corridor. We here at Gerken are excited to help keep the roadway well-maintained.