CAREERS
Job options in the heavy highway construction industry.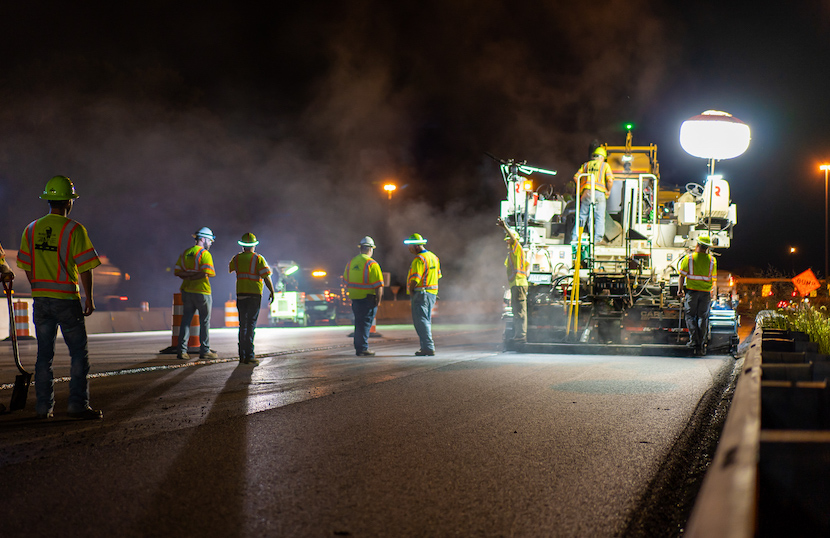 When most people think of road construction, they typically envision a crew working around a paver and some flaggers directing traffic. But there are well over 50 job positions here at Gerkens that all coordinate the planning, production, and execution of building a new road.
Our last post discussed the many benefits of joining the workforce right out of high school. This time we will shift gears and touch on some of the heavy highway construction industry's opportunities and what those positions entail.
Paving Crew
At the heart of road construction is the paving crew. A paving crew is a group of team members coordinating the construction of a new road or repairing and maintaining an existing one. Some perks of being part of a paving crew include working outside, visually seeing your progress throughout your day, having a strong team bond, operating at different locations throughout the working season, and getting great pay.
The leader of the paving crew is known as the foreperson, who directs the team's actions and is responsible for on-site project execution. A good supervisor's critical attributes include strong leadership, adaptability, and communication skills. Laborers make up most of a paving unit and carry out tasks such as manually distributing hot asphalt with a shovel when needed and raking the asphalt to reach the appropriate grade and depth. You can also find a laborer working on the back of the paver (or the screed), checking the depth or thickness of the laid asphalt, and making adjustments accordingly.
The paver operator is the member that steers and runs the paver itself. Though the laborers assist in the paver's operation, having a keen sense of detail and awareness of your surroundings is essential when operating a large machine such as a paver. At least one roller on site is typically necessary and compacts the asphalt after the paver lays it. The roller operator directs this machine, which vibrates and compacts the pavement to the desired density. Density is critical because it is one of the variables measured when considering if a project's specs have been met and can affect durability and drivability down the road. A good roller operator knows the importance of consistency and compacts the pavement in a learned pattern through experience and repetition.
Most jobs on a paving crew are collectively bargained positions. The operators union consists of the team members operating the machines used in the paving process. In contrast, the labor union provides just that, the laborers. If you're interested in pursuing a career as a paving crew member, you might reach out to your local association and see their availability and application process.
Safety & Support
A paving crew does the installation of a new road. Still, many other team members assist and cooperate in this process. One of these positions is known as a flagger, who directs and controls traffic flow to keep everyone in the work zone safe.
Being a flagger takes a lot of patience and awareness, but it can be rewarding because you know you are helping keep others safe. Safety managers oversee this position, and it is essential to note that safety is extremely crucial when considering road construction's dangerous environment.
A quality control technician ensures the crew meets a specific project's desired outcome or design spec. Believe it or not, all roads are not created equal, and some projects call for different mix designs according to their use. Keeping this in mind, a quality control technician carries out various tasks such as taking core samples from compacted asphalt on-site, taking hot asphalt directly from a plant, and testing these materials in a lab to measure certain variables such as air voids, amount of liquid asphalt, and overall mix composition. These tests are done at every project stage to ensure accuracy and consistency. Becoming a QC tech requires some training and experience, mathematical skill, and is a job well suited for individuals with an affinity for detail.
Truck Drivers
Building a road requires the consistent delivery of hot asphalt products by truck drivers. Truck drivers are an essential part of the process and are among the most in-demand jobs. One of the critical requirements to becoming a truck driver is obtaining a CDL, in this case, a CDL-A. That includes going through classes and receiving a certificate that shows you have the skill and training to operate the dump trucks and mixer trucks used in road construction.
Speaking of mixer trucks: asphalt isn't the only material used in road construction, and concrete work is a newer division of The Gerken Companies that is crucial in commercial and residential projects. Becoming a mixer driver is much like becoming a dump truck driver. You must obtain a CDL class B (though a class A will work for this position). A tremendous upside to getting a CDL is that truck drivers are in high demand and ensure job security.
Material Production
So far, you know who installs the road, who supports the installation process, and how the actual material gets there, but where is the asphalt pavement and concrete made? Imagine an outdoor factory where different materials are mixed and stored in large insulated silos. Trucks distribute those materials—the most critical component in the construction process—to job sites. At an asphalt plant, this process employs various positions, some of which we've mentioned before, such as dump truck drivers who move materials from point A to point B.
Additional positions include front-end loader operators, distributing different rock sizes or "aggregates" to separate piles and loading bins around the asphalt plant yard. Operating a machine such as a front-end loader takes practice, experience, and a keen awareness of your surroundings. The coordinator of the asphalt production process is known as the plant operator. The plant operator is a pivotal role in monitoring many different factors of the asphalt production process, such as what is going into the mix and at what proportions (mix design), the efficiency of the various machines at the plant, and the temperature of the finished product when it goes into the silo as well as when it enters the truck.
Temperature is a big deal in asphalt production because it relates to workability and can make things difficult if it is not at the desired range when it reaches the job site. A plant operator must enlist skills such as attention to detail, adaptability, and the ability to diagnose a problem before it becomes reoccurring. A concrete plant mirrors an asphalt plant in many ways. However, it's important to note that the material differs from asphalt and has various construction applications besides road building.
Quarries / Sand & Gravel Pits
A mix-design is the particular makeup or combination of materials put into concrete or asphalt. Those different types of materials or aggregates are produced or cultivated from areas known as stone quarries or sand and gravel pits. To simplify the concept of aggregates, picture different rock sizes, scaling from the finest grain of sand to watermelon-sized boulders. Because these materials comprise a large part of the product we use in road construction, The Gerken Companies owns various stone quarries and sand & gravel pits throughout Northwest Ohio and Southeast Michigan.
Those locations employ loader operators, dump truck drivers, and a new position known as a scale clerk. A scale clerk is responsible for tracking how much product is being purchased from our facility and from what party. That is important because other companies and individuals use our facilities to buy different materials daily.
There's a specialized position known as a dredge operator at a sand and gravel operation, who works a giant clam bucket that dips down in the water and retrieves sand from the bottom of a body of water. This job is almost about operational efficiency as much as bucket placement. If you're not getting the desired product, move the machine to a new area.
Mechanics
Some of the unsung heroes that keep this massive operation rolling are our mechanics. The entire process we've talked about thus far involves using many different production machines and vehicles in the operation, transportation, and installation. These various tools are expensive; maintaining and keeping them working is paramount in running a well-oiled machine. The typical mechanic likes hands-on work and has the mind of an engineer.
Rest of the Team
A project manager carries out the technical planning of these various projects. The project manager typically has a civil engineering degree and can see a job from a bird's eye, including all the challenges in tackling a project. Some of the variables that a project manager has to account for are timetable, various costs, and project specs (the given minimal requirements that a project calls for), to name a few. Most of our project managers operate from our headquarters in Napoleon, Ohio, where other supportive positions such as accountants, HR and clerical, IT specialists, safety and legal, and much more reside.
As you can see, there are various positions to fit people with a wide range of interests in our industry. If a rewarding team-centric career is something you're interested in, visit our Career page now.