COMPANY NEWS
Expanding into new industries.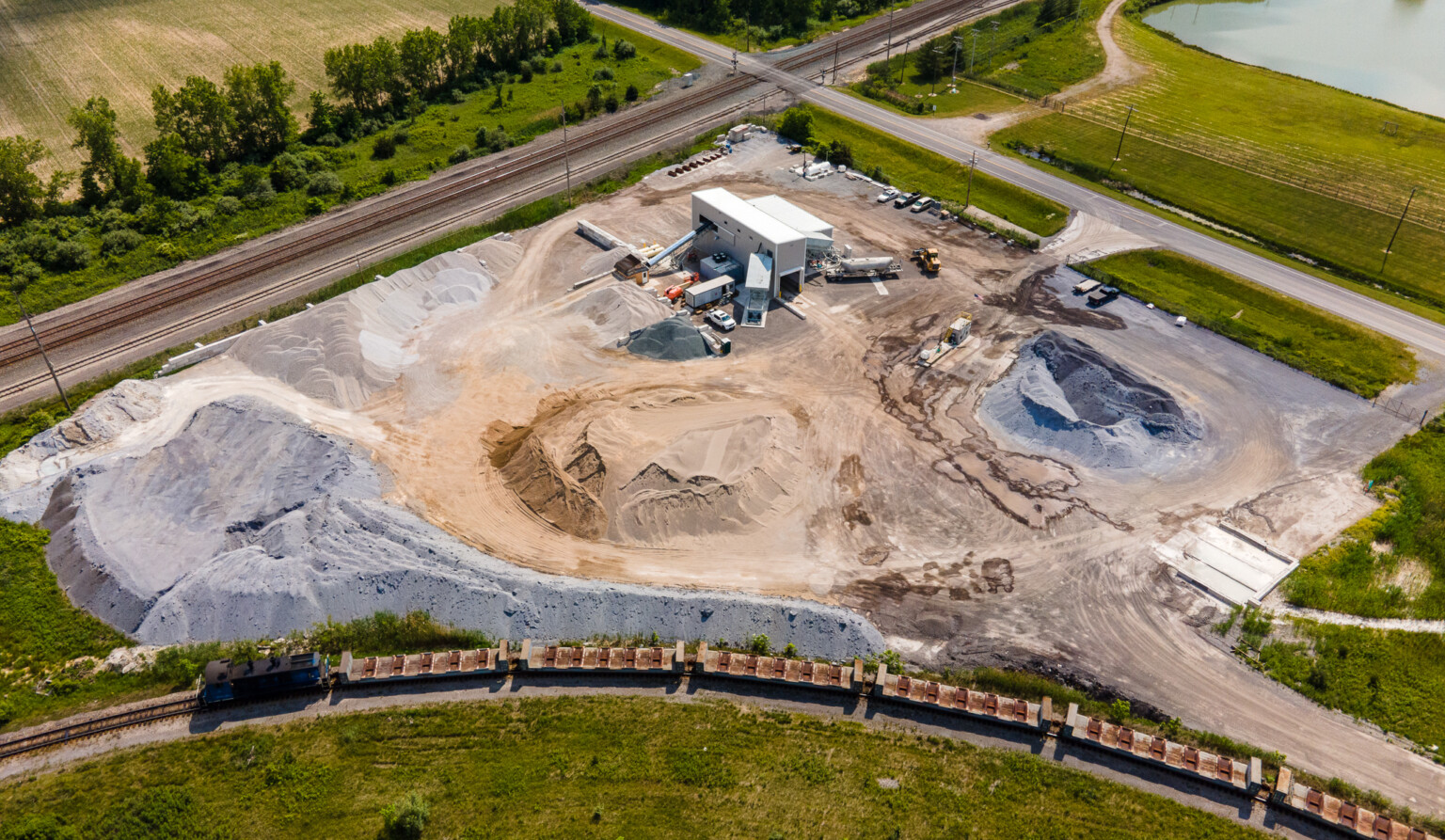 For years, concrete was a dirty word in the asphalt business. That is because concrete is an option when paving a road, creating potential competition between the two materials. Despite this, almost all the road work in northwest Ohio utilizes asphalt, allowing these two versatile construction materials to continue to exist in harmony. With this natural separation in industry, The Gerken Companies has recently ventured into concrete.
Asphalt vs. Concrete
When it comes to road construction, asphalt is king. The flexibility and composition of the material make for a smoother and quieter driving surface. Conversely, concrete is a far more versatile material in its many applications. Concrete finds its way into most modern construction projects, from foundation to flatwork.
Most applications where asphalt is used are major roadways that state and local departments fund. Though asphalt driveways are certainly a viable option for homeowners, typically, concrete is used. Because of this versatility, The Gerken Companies have become more involved in residential work – diversifying our business and broadening our capabilities as a contractor.
Similar to asphalt, concrete is composed of various materials mixed into a thick fluid material. Some of the components that make up concrete are water, aggregates such as sand and gravel, cement binder, and air. There are also additives used in modern construction for various applications, such as greater flexibility, durability, etc. Though these various materials are mixed in different proportions depending on the job specifications, the result of the mix is typically a relatively rigid structure built for supporting and bearing weight.
Concrete is the material choice for many construction applications due to its hard structural integrity and durability. In short, concrete is strong. Another economic advantage of concrete is that it is very widely available. The materials used in concrete production can easily be mined and sustainably produced. The Gerken Companies owns several quarries and sand and gravel pits—making supplying our various concrete plants a primarily self-sustainable mission.
M&R Ready Mix
The beginning of 2019 saw The Gerken Companies leap into the concrete industry by acquiring M&R Ready Mix. With four plants, M&R Ready Mix services many of Northwest Ohio and Southeast Michigan's residential and commercial concrete demands. M&R Ready Mix makes the concrete needed in these many projects and employs mixer truck drivers who deliver the time-sensitive cargo to various job sites. Purchasing M&R Ready Mix acquired approximately 40 additional employees—comprised of mixer drivers, plant operators, managerial and office employees, and more.
One of the many positives of being in the concrete industry is that it allows us to work in both the residential and commercial sectors. One of our recurring business partners, which is in the backyard of our Delta plant, is North Star BlueScope Steel. With the success and growth of their business, North Star has expanded its facility by adding multiple new buildings and recycling structures.
With this expansion, M&R Ready Mix has been one of the chief suppliers for their concrete needs, including foundational, concrete pad, and wall work. It has been a great partnership thus far, and building relationships like these are among the many factors driving our business's success.
Kuhlman Corporation
Like M&R Ready Mix, Kuhlman Corporation employs plant operators and mixer drivers to manufacture and deliver concrete products to various job sites. On top of this, Kuhlman Corporation is a primary vendor for various building supplies, including ready-mixed concrete, decorative and stamped concrete, brick, stone, hardscape supplies, sewer & water materials, concrete forming systems, and more. Along with two retail locations, Kuhlman Corporation has a robust online catalog where customers can purchase a wide array of materials and products to conquer many different types of projects. Some of these projects include hardscape construction, concrete flatwork, and pouring foundation walls, among other concrete-based projects.
Kuhlman Corporation began in 1901 when Adam Kuhlman decided to get into the building material supply business. By helping its customers be successful, Kuhlman has grown into one of Northern Ohio and Southeast Michigan's:
Largest producers of ready-mixed concrete
Most diversified wholesale distributors of quality construction materials for the concrete/masonry and water/sewer trades
Leading suppliers and haulers of quality construction aggregates
With the acquisition of The Kuhlman Corporation, The Gerken Companies has added 135 employees, covering mixer drivers, plant operators, management and operational employees, retail store workers, and more.
We look forward to our future with Kuhlman Corporation and M&R Ready Mix and are excited to see what each division brings to the table in the future.
Enriching our Workforce: Providing Stable Employment for Many
The ability to provide stable, well-paying jobs is one of the many benefits of being in the construction industry. Regardless of the fluctuating state of the economy, building and maintaining the roads, structures, and facilities is an ever-existing need. Infrastructure enriches the lives of the public and the workers involved in the production of these projects. Working locally to improve the places we live will always be a recipe for community success. As we venture into new fields such as concrete, our ability to offer new opportunities to a more significant number of people increases the same.
"When the opportunity presented itself to venture into the ready-mix business, it was a logical fit. We supplied limestone, sand, gravel, and asphalt to the highway and commercial market but not concrete. With the addition of two quality companies, M&R in January 2019 and Kuhlman in March 2021, the missing piece of ready-mix was added."

—Brent Gerken, President of The Gerken Companies